SPRING SHOE ROUND-UP: What to Buy Now to Update your Shoe Capsule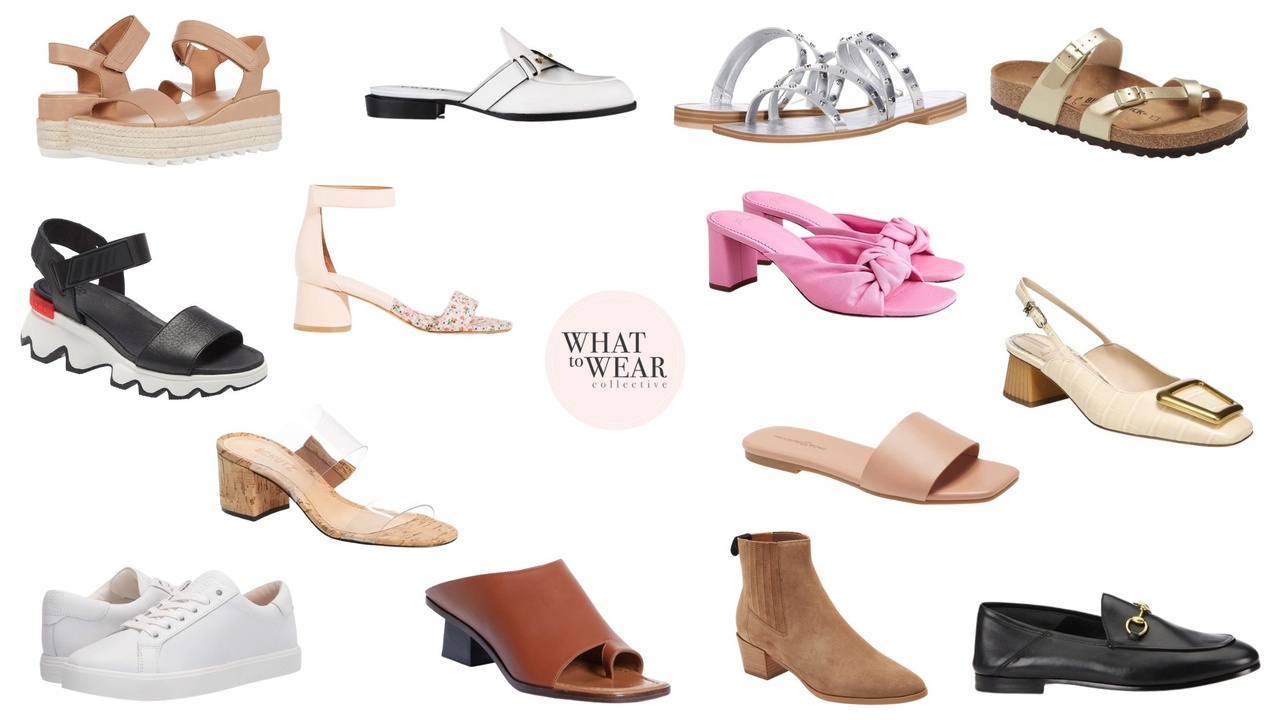 Let's kick up our heels because - it's SPRING!!
If that means you're looking in your closet and thinking: "Uh, oh! I've mostly worn slippers for the past year!", we're here with our round-up to guide you with our suggestions for 🌸Spring🌸 shoes. In fact, one of the best ways to pull your whole look together is to add a pair of updated shoes and now is the perfect time to update your shoe capsule.
YOU CAN CLICK ON THE PICTURES BELOW TO SHOP OUR SUGGESTIONS:
Spring feels especially tricky, doesn't it? On any given day, you're likely to experience a wide range of temperatures. In the Midwest, we'll swing from sunshine ☀️to snowstorms ❄️ within the course of a week, and we can hardly wait to pull out our sandals and ditch our winter boots!
Honestly, one of the most-asked questions we receive is: "What are my options for Spring, other than booties?!".
We've been shopping for our clients and taking questions from members of our Private Facebook Group about Spring Shoes and we're excited to bring you some much-anticipated ideas to update your shoe capsule for Spring 2021!
For casual Spring shoes, you can't go wrong with sneakers, flatform sandals, slides, and Birkenstocks. We're still loving an all white sneaker option and have included two of our top picks (for ourselves and our clients). Also, mules and loafers are classic silhouettes that are excellent options in transitional weather.
In our Facebook and Instagram stories yesterday, we previewed a few of our selections and asked for your favorites and the beige flatform sandal was a clear favorite, but be sure to check out the other color option (black with a herringbone-patterned heel - so hard to choose!).
Some of our clients are looking for a few options that can be worn casual or dressy for their shoe capsule and we're happy to provide some suggestions for versatile options that will provide a bang for your buck. In other words, these are stylish and chic options that also allow you to wear them with a wider variety of looks.
Square toe boxes, slingbacks, and block heels are silhouettes we're seeing more and more and we're liking the fresh looks and updates they provide our Spring looks.
When possible, we've provided a "Spend or Splurge" option for some of our looks. Click on the link to see all options we recommend.
Refreshing your shoe selection instantly gives your wardrobe a more updated look and feel. Sometimes, the best guidance we give our clients is to branch out to try a new shoe sihlouette OR to update a beloved style to a color or heel that is more current. If you haven't updated your shoe capsule in the past two years, we'd encourage you to start with a couple new options. Get a "step ahead" of the game - with our recommendations, you don't have to scroll aimlessly wondering "what's in style this Spring".
The shoes we've linked are shoes we own, have on order, or have recommended for our clients. They are all brands we love and have time and again been happy with for ourselves and our clients. Please let us know if you have questions, we'd be happy to help with your selections!
**If you enjoy our content and would like to help us grow, please follow us on Instagram and join our Private Facebook Group, where we share lots more advice and guidance with like-minded women.